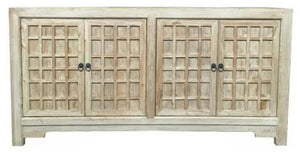 Inspired by the coast, the  buffet is a natural beauty.
This beautiful buffet has wrought iron loop handles and a single removable shelf inside.
Constructed of reclaimed elm timber, each furniture piece hosts a variety of unique markings and textures which become characteristic to the item.
Images online are reference only to the item you will receive, and no two pieces will ever be the same.
Material: 
Reclaimed Elm Timber.
Dimensions: 
4Door - 180 x 45 x 90cm (Approximately) 
Please note: We offer Australia-wide delivery on our online purchases. There is a surcharge for this item which is not included in our flat-rate delivery offer. Contact us if you have any questions.