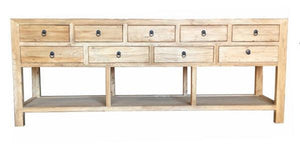 Inspired by timeless Chinese antique furniture, this Range has beauty and durability of reclaimed elm with stunning oriental-inspired design.
The functional bottom shelving provides extra storage as well as an opportunity for further styling with baskets etc.
Reclaimed Elm.
Dimensions:
230 x 45 x 90cm H
Images online are reference only to the item you will receive, and no two pieces will ever be the same.
Please note: We offer Australia-wide delivery on our online purchases. There is a surcharge for this item which is not included in our flat-rate delivery offer. Contact us if you have any questions.