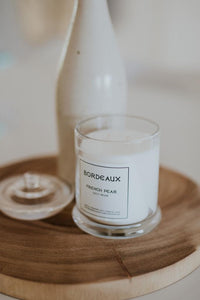 Enjoy this 350g hand poured pure soy wax candle that has been infused with a fresh & fruity fragrance. 
The vessel is simple, classy and elegant in its appearance and will fit into any space in your home. This size candle is best suited to small and medium size rooms.
The classic candle has two cotton wicks to ensure a calm and even burn lasting up to 80 hours.
Fragrance preference is such a personal thing so we have handpicked our range, ensuring we have something for everyone. 
French Pear derives its name from the phrase Doyenne du Comice, meaning 'Top of the show', as they are often celebrated as the best pear variety. Originating in France, the fragrance is rich, juicy and meltingly smooth. An amazing pear fragrance. This candle with give you beautiful scent of Orange & Cinnamon, with a hint of Clove & Green Pear, and an undertone of Coconut & Vanilla.
All Bordeaux Candles are hand poured in our studio which is nestled in the Hawkesbury Region of NSW.  Our vessels are so beautiful you can repurpose within your home once it is finished.  All candles in this range come in a re-usable cotton drawstring pouch.