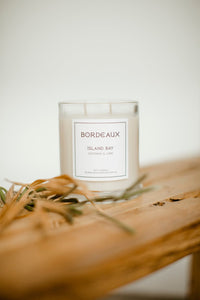 Enjoy this 350g hand poured pure soy wax candle that has been infused with a fresh coconut like fragrance. 
The vessel is simple, classy and elegant in its appearance and will fit into any space in your home. This size candle is best suited to small and medium size rooms.
The classic candle has two cotton wicks to ensure a calm and even burn lasting up to 80 hours.
Fragrance preference is such a personal thing so we have handpicked our range, ensuring we have something for everyone. 
Island Bay is the ultimate refresher. A tantalising fusion of fresh coconut, and lime and invigorating verbena soothed by luscious vanilla. An irresistible classic and one of our all time favourites.
All Bordeaux Candles are hand poured in our studio which is nestled in the Hawkesbury Region of NSW.  Our vessels are so beautiful you can repurpose within your home once it is finished.  All candles in this range come in a re-usable cotton drawstring pouch.